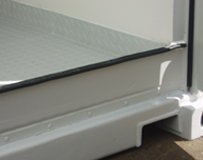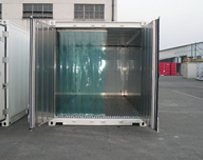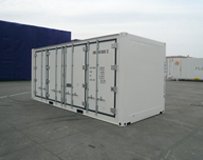 Our containers are based on standard 40ft or 20ft (12m or 6m) refrigerated cargo ship (reefer) containers, and modified to meet our specifications and your particular requirements. We can also manufacture containers from scratch based on your requirements.
A tailored solution for your requirements
ConRail container modifications can include the following. Where possible, we will also incorporate your own custom requirements not included on this list.
Interior lighting
Shelving
Special doors and windows
Emergency personnel doors
Intruder alarm systems
Fire and explosion detection and protection
Subframes
Access ramps
Man trapped alarm
Dual temperature zones
Aluminium flooring
Protective roofing
Relative humidity regulation
Generator sound level reduction
Insulation curtains
Insulated and Thermo King doors
Choice of colour
CSC inspection
Remote monitoring
ComRail containers are delivered ready to use, including electrical connections making them plug and play.

We can provide technical maintenance by experts, and in the event of a problem we guarantee prompt service and supply of replacement parts.
When your needs change, we can accept your old container as a trade-in and collect it from its location.
Call or email us or submit the online form on this website with your requirements. Our storage experts will advise you on the most appropriate solution for your needs.