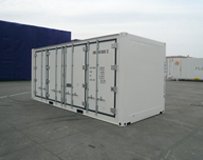 We produce a wide variety of special containers according to customers' needs. A small sample is shown below:
Heated containers up to +80C (176F)

Deep freeze containers down to -60C (-76F)

Clip on generator sets for external, self-contained, water cooled, automatic diesel engine powered independent power source

Mega unit a modular extendable system. Size and capacity is almost unlimited forming a single zone climate controlled store

Spill trough for 20ft containers

Pharmaceutical container with 120mm insulation, lock and modified doors, enabling extreme temperatures

Climate-controlled container with relative humidity control and lockable cover for external facility controls

High cube refrigerated container with non-slip floor, internal lighting and stainless steel shelving

FSA refrigerated container enabling variable entry. Single, angled and double facilities are possible

Bespoke plant facility for pharmaceutical company, with three sealed chambers, maintenance-free refrigeration, air filtering and 42dBA sound pressure level

Sound level will be reduced from 66.5dbA to 34dbA during cooling

Special manufacturing / construction of units available, for example explosion proof plant Flexi tank for the storage or bulk shipments of non-hazardous liquids of 10,000 to 24,000 liters capacity and are placed inside a standard 20l ISO container.

Dry bulk liners for the storage or bulk shipment of materials in granular or powder form and are placed inside a standard 20l ISO container.